Written by Ma. Teresa Montemayo
Originally posted at Republic of the Philippines' Philippine News Agency
MANILA — Filipino professionals who choose to work in Europe to improve their families' living conditions often end up taking dirty, dangerous and low-paying jobs.
While most of them are able to physically adjust to the demands of their jobs, many among them still miss the intellectual rewards they can only get from practicing their professions.
"Of course, each Filipino has his or her own story for taking such jobs as a cook, utility personnel or kasambahay (housekeeper). But, since they are college graduates, you will still hear them saying: 'Minsan nakakabobo na ang ginagawa namin sa araw-araw (Sometimes, we long for tasks that require thinking)," Liz Soliday Naui, president of International School of Applied Social Sciences, told Philippine News Agency (PNA) in an interview.
Filipinos in Europe
Naui said apart from the fact that Filipinos are willing to take low-paying jobs, the European community somehow limits the opportunities for employment and development for them.
"The Philippine diploma is not recognized by the European educational system, so, even if you graduate from a four-year course in the Philippines, your academic credentials would only be equivalent to first year or second year college," she said, adding that the European Credit Transfer System measures number of hours of study and not in units per subject.
Under the European educational system, diplomas are not considered college degrees but "proofs of continuing education" and students are treated as "life-long learners".
Naui added European employers prefer job applicants who speak their language over those who are English-speaking only.
"According to data, there are over 25,000 Filipinos in Barcelona, Gerona, Ibiza, including Filipinos with the irregular position. And most of these Filipinos land jobs in restaurants, residences, or hospitals and they don't get to do office work," she said.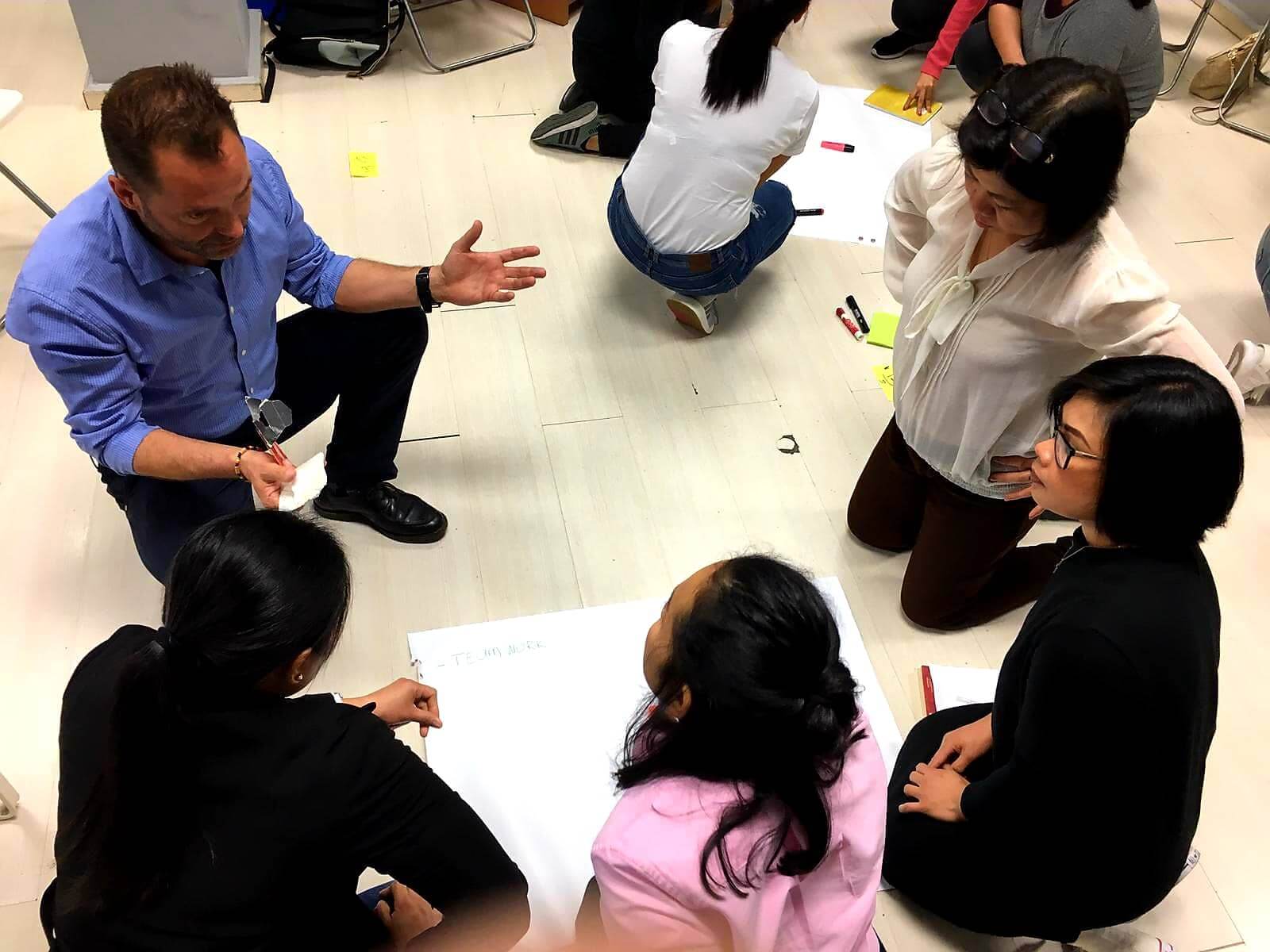 International School for Applied Social Sciences
With the betterment and welfare of Filipino migrants in mind, Naui established International School for Applied Social Sciences (ISASS), the first Filipino international school in Barcelona, Spain.
"The Filipinos there cannot showcase what they can really do as professionals, and this is what motivated me to establish the international school. Naisip ko, pababayaan ko na lang ba sila na magtrabaho bilang kasambahay lang hanggang sa tumanda sila, pwede pa sila makakuha ng mas magandang trabaho (I thought to myself, will I allow them to work as housekeepers until they are old, they can still get better jobs)," she said.
ISASS offers diploma and degree courses in partnership with different educational institutions in Europe and Asia through a problem-based curriculum and blended learning strategy.
"Blended means 60 percent online and 40 percent face-to-face learning. So, every four to six weeks, students meet their professors but all materials for discussion are online. Saka mayroon din silang ipapasa (They also need to submit a) research paper before they can complete the diploma course," Naui said.
ISASS started its operation in February in partnership with the Barcelona School for Applied Science, a non-profit organization, the University Institute for International and European Studies (UNIES) based in the Netherlands, and the Small Enterprises Research and Development Foundation, a resource hub for small and medium enterprises with the University of the Philippines Institute for Small Scale Industries.
"Those who enroll with us can take International Studies, International Business Management and International Service Management. Each course must be completed in six months, and each course is equivalent to 60 European credits or 1,500 learning hours," Naui said.
She said any Filipino who is 18 years old and above can take any of the courses "as long as they are already in Europe".
"We don't offer this to Filipinos in the Philippines who want to be in Europe to study primarily because we don't offer student visas," she said, adding that ISASS also accepts other nationalities for enrollment.
Bridging the gap
Stressing that ISASS aims to provide a motivation for overseas Filipino workers in Europe to pursue a better career, Naui said she advised their learners to take language proficiency as well
"It's presumptuous to say that finishing our courses will make them qualified for office work, so I often tell them that they should not be reliant on our courses only. They should study the language as well because employers are very particular with Spanish-speaking or French-speaking applicants," she said.
"By being more involved in community affairs, having more awareness and hoping that they'll pursue more concrete formation or degree, we want to help the Filipinos here to transition from being house helpers to someone with higher position or to become entrepreneurs," she added.
Naui earned her doctorate degree (magna cum laude) in Information and Communication from University de Nice Sophia Antipolis in Nice, France. She has years of experience as a professor and prides herself for being a perpetual student.
Her pioneering effort in bringing education to the underprivileged members of the Barcelona community and now internationally paved the way to the formal creation of Barcelona Center for Applied Sciences and ISASS. (PNA)
---
Source: Philippine News Agency
https://www.pna.gov.ph/articles/1073260?fbclid=IwAR3Fq5KRIPBavJ5snvHWWdNhj7zAQvAjf4vMzxVZAYCOhKTZfChnxgFuCKE